After owning my pair of Yeezy's for nearly 5 years, I feel like I'm well qualified to say whether Yeezys are worth the cost.
My pair of Yeezys has been through it all. Long shifts at work, clubbing, music festivals, the beach and vacations -and they still look pretty good. 
To get straight to the point, the Yeezy 350 Boost is worth every penny. The Yeezy is by far the most comfortable shoe I've ever worn. Like him or not, Kanye West and Adidas released an amazing shoe. After years of owning them and wearing them daily they're still comfortable, they still look great and to this day I regularly get complimented on my kicks. 
In this post, I give 5 reasons why Yeezy's are worth the cost. I discuss why Yeezy's are so expensive, and I share my experience with Yeezy's after owning them for 5 years.
5 important reasons that Yeezy's are worth the cost:
Comfort:
The Yeezy 350 boost V2 is by far the most comfortable shoe I've ever worn in my life. Over the years I've owned and worn all sorts of shoes, from Nike's to Gucci sneakers and nothing compares to the Yeezy 350.
The way the shoe hugs the back of my ankles and the boost material on my feet makes it feel as if I am walking on clouds. I've spent hours standing in plenty of different shoes and none has been as comfortable as my Yeezy 350's.
Durability: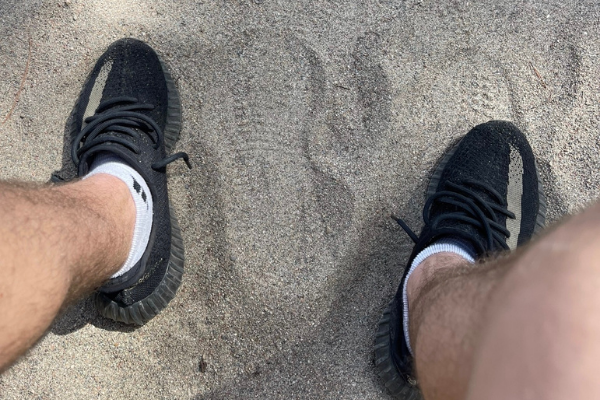 The Yeezy's are surprisingly really durable. Stupidly, I wore them to a music festival a few years back. Was I comfortable? Yes – but my heart broke when I looked down at my shoes and saw how dirty they were at the end of the night.
Once I got home, I decided to put them in the washing machine, as I had nothing to lose. I put them on the delicate cycle and then I waited.
To m y surprise, they came out looking brand new again. The material is super durable and cleaning them once in a while will keep your Yeezy's looking fresh.
Style:
The Yeezy is still an extremely stylish shoe. Adidas and Kanye West are still releasing new Yeezy's with unique designs.
In my opinion, I prefer the older designs as they are more simple but the new ones are still cool. In fact, I'm in the market for some new ones and choosing which ones I like best.
Yeezy's are a great mix of fashion and comfort. Being able to wear such a comfortable shoe while staying stylish is one of the main reason why Yeezy's are so worth it.
To this day Yeezy's are still a really stylish shoe despite keeping nearly the same design since 2016. I believe this is due to how practical the shoe really is. Adidas releasing a comfortable and stylish shoe changed the sneaker game.
Versatility:
The Yeezy is a very versatile shoe. You can wear them almost anywhere. Whether it's the gym, to work or to the club, the Yeezy will go with so many different outfits.
The shoe being so versatile makes it so worth it. Who doesn't love a shoe they can wear nearly anywhere!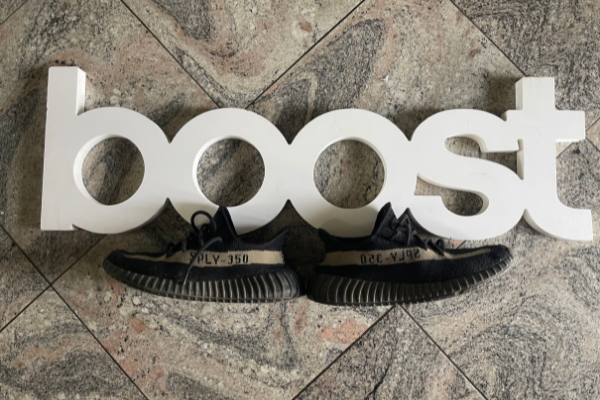 Quality:
The Yeezy is a very good quality shoe. The second you pick up the shoe you can tell it's well made. The material is thick and it just feels well put together.
When you put on the shoe you feel your heal being hugged so nicely which I have never felt on any other shoe. The boost technology makes it so comfortable and over time the boost maintains it's quality.
Why are Yeezy's so expensive?
The Yeezy retails for about $220 US, however since stock is limited they are hard to find in stores. Many times this means buying them on resale websites and Facebook marketplace, which drives up the cost.
If you're lucky enough to get a pair of Yeezys for retail price, grab them. The quality, design and durability make them worth the cost of the shoe.
Luckily, nowadays there is not as much hype around the new releases and they tend to be releasing a lot more shoes over time, so they are becoming more affordable.
If you purchased Yeezy's a few years back and kept them in good condition or didn't wear them at all, they will most likely be worth a lot more than what you payed.
For example, I purchased my Yeezy "Olives" for $380 US. On StockX, a popular online marketplace, I saw the same pair of shoes, unworn, currently going for $895 and a used pair is selling for $350.
Overtime, the older pairs will go up in value as there was a super limited supply of them at the time. If you are into sneakers and know the market, getting some old Yeezy 350's for the right price, in good condition can be a really good investment.
Why are Yeezy's so popular?
Adidas and Kanye West did an incredible job at marketing this shoe. They built so much hype around the shoe and to this day the Yeezy's are still relatively hard to get in stores.
Although it's frustrating as a consumer, the limited supply is what built the extreme amount of hype around the shoe. Everyone wants what they can't have, and Adidas and Kanye West did exactly that.
When I first got my Yeezy's I would get so many compliments at work. I would hear kids say "Are those Yeezy's?" countless times throughout my shift. It really hit me when my manager at work asked me if I could find some Yeezy's for her son's birthday.
The Yeezy is an iconic shoe and will be the sneaker that my generation will always remember as being the "cool shoe".
My Experience with Yeezy's over 5 years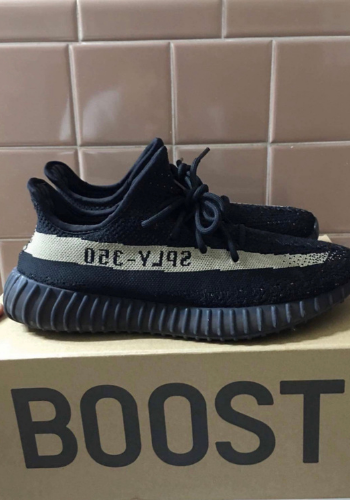 I absolutely love my Yeezy's. Originally I bought the "Olive" Yeezy's for $380 US. At the time, I was in my final year of high school and this was a ton of money for me. I was 16 years old working for about $12 an hour so it took a lot of saving up.
At first, I was super careful with my shoes. I would tape the bottom of them to keep the boost white, I would never wear them outside.The black material kept them from ever look dirty so, overtime I realized I could wear these shoes wherever and they would still look the same.
The shoe is extremely comfortable so I started wearing them to work. My job required me to stand on my feet all day so they were the perfect shoe. At that time, Yeezy's were at the height of their popularity. Throughout my shift I would get countless compliments on my shoes.
After owning for nearly 5 years now I can say that the Yeezy was absolutely worth the money. At the time it was a lot of money, but to this day I wear them often. They're still comfortable and I occasionally Sneakerheads will still compliment the shoes.
Are you into sneakers and thinking about getting a pair of Yeezys or do you already have some? Please let me know about your experiences in the comments below.